GERRY COLVIN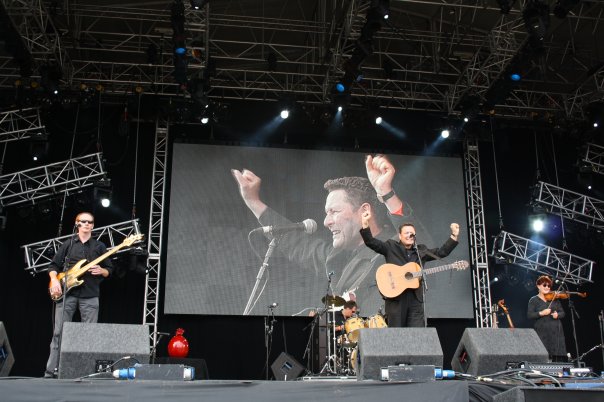 Gerry was born in Barrow-in-Furness and raised in Orpington, Kent. In the early 1980's he co-founded and fronted the legendary John Peel favourite skiffle-cowpunk indie outfit 'Terry & Gerry'. This seminal band toured Europe and the USA and appeared on countless TV shows including "The Tube" and "The Old Grey Whistle Test". Their five singles and album all reached No.1 on the indie charts.
In the nineties Gerry spent time in Nashville - working as a professional songwriter and later collaborated with Alison Moyet, co-writing on an album project. He also wrote TV themes, musicals, film scores and wrote and presented for BBC radio 2.
In addition to forming 'The Atlantics' in the early nineties, Gerry has also compered at Glastonbury Festival, appeared as a corpse in the BBC's medical drama 'Casualty', sung Big Band swing with the National Screen Orchestra and performed as a comedy double act with Mackenzie Crook.
Since 1995 Gerry has worked with Nick Quarmby in the five piece folk band Colvinquarmby. They have released six critically acclaimed albums and were voted best band at the prestigious Fairport Convention Cropredy Festival in 2009. In 2010 they won the Hancock Award for best folk act. Their latest album 'CQ5' was released in June 2012. In May 2012 Gerry was invited by New York producer and Robert Plant song collaborator Dave Barratt to record a song for the 'Beatles complete on ukulele' album and website.
Gerry has also completed a solo jazz album and written a collection of short stories and poems. He has a pet rabbit.