MARTIN LORENTZSON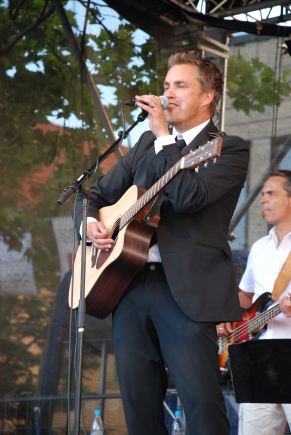 BIOGRAPHY
With his third album, Together, Swedish songwriter Martin Lorentzson has taken his love for rootsy pop music one step further. Through working with other songwriters and soundscape producer Carl Granberg, the new album shows that Martin's warm voice paired with strong melodies and detailed, dreamy arrangements is a winner.
Martin, born 1967, was brought up in the small town of Älmhult, Sweden (home of IKEA), where both parents worked as general practitioners. In his mid-teens, music became an increasingly dominant part of his life. Despite, he claims, some very bad odds:
"Demis Roussos, Scott Joplin and obscure 70's compilation records". That's the kind of music I grew up with".
Luckily, his older brother was kind enough to borrow him both his guitar and record collection – the spark that would ignite his lifetime devotion for music and songwriting.
Although 60's soul, Country and American root music always have been his main influences, Martin is a "good music man". If it's good, it's good, no matter genre. And maybe that's why his songs embrace such a wide spectrum of styles and moods, from folk and Americana to pop and even electronica.
Martin is a true Do-It-Yourself artist. All his records have been realized and released without any outside support. And the hard work has paid off: he's been playing live in national TV several times and gained some really good reviews from Swedish media.
His new record, Together, indicates a more daring path in his career, a path that likely will attract new listeners and fans. Martin is, however, old enough to have balanced expectations:
"The more songs you write and the harder you work, the better songwriter you'll become. And that's all that matters.
Together will be released 28 February as physical CD and on all digital platforms.